ALUMNI SPOTLIGHT SERIES - ANDY GRAHAM
Interview by Taryn Niederberger
---
Andy Graham is a proud 2006 UCSB graduate and Baseball Alumni. He was a pitcher for UCSB from 2004 to 2006 and then went on to play 6 years of professional baseball. Graham is now an owner of Paradise Bowls in Hermosa Beach, Manhattan Beach, and Irvine California and is a donor to the UCSB Baseball program.
1. Congratulations on your success with Paradise Bowls! How did your experience at UCSB contribute to your success as an entrepreneur?
This isn't necessarily specific to UCSB but I believe the general overall aspects of being away from home and attending college are what really prepare someone for the rest of their life, whether that's as an entrepreneur or as anything else they chose to do. You're young and in a new city and all of sudden you're responsible for yourself. Mom and Dad aren't there anymore. It's up to you to find your way around campus, make sure you're taking the right classes, get your coursework done, figure out how and where you're going to eat when your parents aren't cooking dinner, make new friends and figure out what kind of people you want to surround yourself with, just grow up in general. You have to learn how to handle yourself and your responsibilities and if you can learn how to do it well it's sort of a kick-start to the rest of your life.
Student-Athletes also have to learn how to do everything I just mentioned plus commit themselves to their respective sports. That's multiple hours a day when you're either at early morning weights, at practice, traveling with the team, playing games during the season, etc. All of a sudden you have that much less time to focus on all the other things that are part of being a college student. You're kind of thrown into the fire as a freshman so you better learn how to manage your time and you better learn how to do it quick!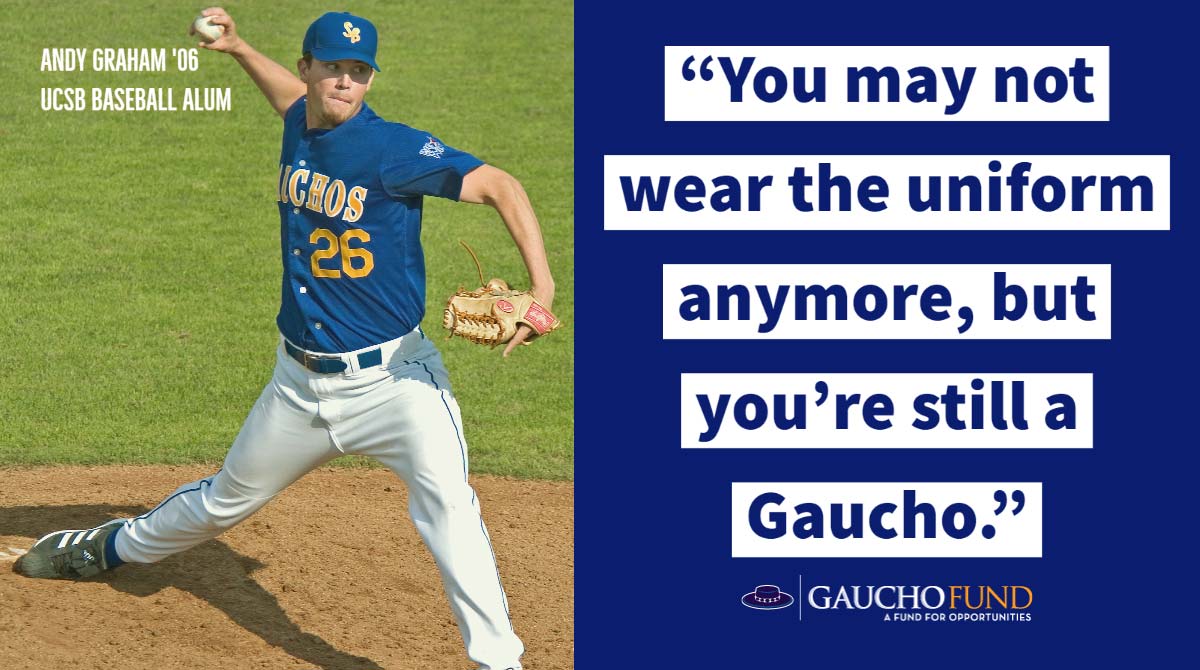 2. You've mentioned in previous interviews that you are proud to be an active member in your community. What makes you proudest about being part of the UCSB community?
The great thing about the UCSB community is that there are so many different ways to be a part of it. Obviously I keep up with the baseball program and athletics in general. We have a core group of alums from the mid 2000's who are all still very close (once they all eventually read this I'm sure they'll find some reason to make fun of me). It's been really fun to see how the baseball alumni base has rallied around the program the last several years, particularly seeing so many guys travel to Omaha when we made that College World Series run in 2016.
I'm also a life member of the Alumni Association and served on the Los Angeles Regional Campaign Committee for the development department. As I mentioned, the great thing about the UCSB community is that you can be involved in so many different ways. It also gives you a sense of pride to see all of the great things happening on campus now. I like to joke around that as UCSB alum you get smarter and smarter every year because the academic reputation of the school has risen through the roof so a UCSB degree keeps gaining value.
Whether you're an alum, current or past parent, or current student, there's just a different sense of pride about being affiliated with UCSB. Living in Manhattan Beach I constantly see someone wearing a UCSB shirt or hat on the strand (even my dad, a UCLA grad, likes wearing his UCSB stuff when he runs on the beach).
3. What was your biggest takeaway from your experience as a Gaucho?
It's hard to nail down one big takeaway, but I will say that my experience as a Gaucho has provided the foundation for my life today. I mentioned previously how close our baseball alumni group is (we get over 100 guys back to baseball alumni weekend very year!). I played six years of professional baseball after leaving UCSB but my best friends to this day are my former Gaucho teammates. I met my wife when she was working at UCSB and we were able to take our son, Brooks, to his first Gaucho baseball game last season (he's only two, but we're still waiting on that scholarship offer from Coach Checketts). I even worked on campus for a while after my playing career was over. Being a Gaucho is just something I will always identify as part of my life.
4. What are a few of your favorite memories from pitching for the Gauchos?
The camaraderie we had is something I will always remember. Competing against another team is always fun, but it's special to do it with your closest friends. As for specific memories, I have to think of 2004 when we played at Long Beach State when they were ranked #3 in the country. They had what was just an unreal team top to bottom, including Jered Weaver as their Friday starter. I believe it was eight or nine guys from that team alone that ended up playing in the big leagues (Weaver, Troy Tulowitzki, and Evan Longoria to name a few). Nobody had gone into Blair Field and taken a three games series from them all year. We were down 4-0 in the top of the 9th inning Friday with Weaver still in the game. I'm not sure we even thought we had a chance to come back, let alone anyone else in the stadium (this is when Long Beach had a sold out crowd most nights). We managed to load the bases and Chris Malec hit an absolute missile of a ball for a grand slam to tie the game. Our dugout was going nuts while the rest of Blair Field was stunned in silence. Nate Sutton hit a home run in the 10th inning to give us the win. We went on to win again Saturday night and the game I pitched on Sunday to sweep all three games from what was arguably the most talented team in the country that year. That's a weekend I'll never forget.
5. Thank you for your ongoing support of UCSB Baseball! What motivates you to give back?
UCSB gave me a chance to play college baseball and I've always wanted to do what I could to support the program that gave me that chance. I also want to see the program continue to win at the highest level and they simply need more resources to do that. We're falling behind in terms of our facility and resources compared to most other college baseball programs who compete on a national level and even just our competitors in the Big West. I want to see us host a NCAA regional on campus at Caesar Uyesaka Stadium and we have a long way to go before that happens. The program needs our support and I want do at least do my part.
6. Do you have a message to share to other alumni who might be considering donating?
Just do it! You won't regret it. It'll give you a sense or pride and ownership of what is still your program. You may not wear the uniform anymore but you're still a Gaucho.