MEN'S BASKETBALL 2017-2018 SEASON PREVIEW
New Staff and Revamped Roster is "All-in"
by Zach Hedges
---
Fourteen men toe the sideline and begin a quick jog back and forth across the width of the court as the timer counts down. Running lines is a common punishment in basketball when players lose focus or are not playing up to standards. What is noteworthy about this particular set of lines, however, is the standard for which they are running. "That is not who we are! That is not what we do!" The voice of Joe Pasternack, the newly-appointed Head Coach of UCSB Men's Basketball, echoes loudly throughout the Thunderdome as he refers to the player who arrived at the Thunderdome at 12:22pm when practice began at 12:30pm. This kind of mentality, that players need to be not just on time but early, is one small example of the discipline and commitment that Coach Pasternack is attempting to instill into all aspects of the program in his inaugural season.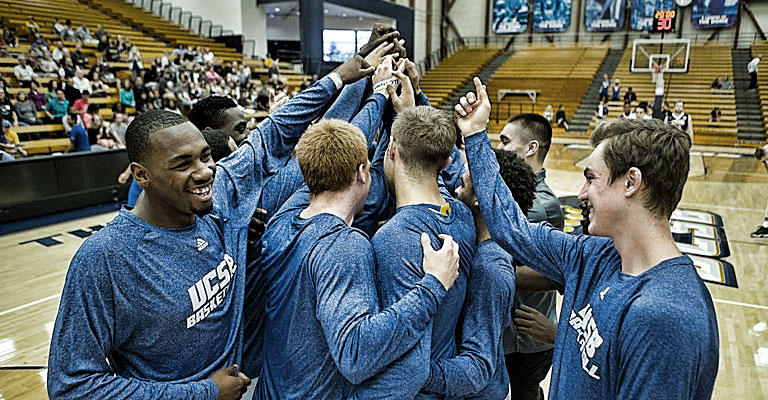 Coach Pasternack joins the Gaucho family after spending six seasons at the University of Arizona, where he recruited and developed current NBA players such as Stanley Johnson and Aaron Gordon. After being hired on April 4th, Pasternack wasted no time in assembling his new squad, with a new staff hire or player transfer coming almost weekly. Before the end of May, he had brought in three assistant coaches -- Louis Reynaud, Ben Tucker, and John Rillie -- who combined represent of 25 years of college coaching experience. "To me, you are your staff, and your staff will determine your success," commented Pasternack on how he went about choosing his coaches, adding that "it was really important to me that I hired people who were well respected, who were congruent with my philosophies, and who I have worked with either firsthand or through a close colleague." There will also be some new faces on the court, namely graduate guards Marcus Jackson from Rice and Leland King from University of Nevada Reno. Devearl Ramsey will also be joining the team from UNR, and will have three years of eligibility left after redshirting this season. Throw in David Miller as the Director of Basketball operations and you have the sum total of what was undoubtedly the most active offseason in recent history for Gaucho Men's Basketball. Acquiring all of the pieces was only the first step, however; it's what they do with those pieces that will really count.
Coach Pasternack has made sure to utilize his new staff by launching an all-out attack on numerous fronts, with the target being the makings of a top-tier collegiate program. The team has adopted an ideology centered around responsibility and accountability that has been summed up by the mantra "all in". This is the phrase that the players break every huddle with, and it is the mindset that they carry with them at all times. Senior center Alex Hart is a big supporter of this mentality, saying, "All-in is everything for Coach P. and our team...It's really about being aware and representing yourself as a first-class citizen at all times." Both the players and coaches stress that "all-in" applies to what happens off the court just as much as what happens on the court, and they have been quick to adapt to this and make it their own. Team captain Gabe Vincent claims, "All-in is more than our break, it's symbolic of the culture of our team." This is a culture that promises to reach deep into all facets of UCSB and the Santa Barbara community. Thus far, the team has practiced what it has preached.
There is something to be said for the pride this team takes in representing UCSB and Santa Barbara as a whole. Being "all in" off the court starts by building a good rapport with the school and the community. The coaching staff understands that gaining respect and support will be a two-way street, and they have been quick to make sure that the players will be invited to events hosted by student organizations. Pasternack has personally gone to the meetings of many UCSB fraternities, preaching the relationship that he hopes to foster with Greek Life and promising a reward to the house with the most attendance at the home opener. Coach Pasternack wants his players and staff to create strong ties with the people they represent, saying, "Off the court we have really been getting out into the community and having the community meet us and promote our program." Santa Barbara residents were even invited to get a first look at the team during an open practice that was held on October 20th. This new tradition allowed students, families, and fans an authentic peek into team's work ethic and intensity before the first tip-off. Creating these strong connections early is going to be crucial for the team's effort to develop a fanbase for years to come, while also giving the players a stronger sense of purpose for what it means to wear UCSB on their chests.
On the court, this is going to be an entirely different team from last season. They plan to play a fast paced, high tempo offense that will allow them to capitalize on the number of scorers this team has. Transfer Marcus Jackson acknowledges the team's ability to put points on the board, saying, "I think scoring is one of our biggest strengths. 1 through 5 we can really put the ball in the hole." Marcus will certainly help this trend, but you don't have to look past last year's roster to find stacked offensive capability. Gabe Vincent will return after suffering a torn ACL last year; prior to that season-ending injury, he was averaging 14.8 ppg through twenty games. Also look for sophomore guard Max Heidigger to make an impact on the offensive end with his ability to finish in traffic and get to the line. Add that to a front-line of capable big men such as Ami Lakoju and Jalen Canty who will be returning after academic suspension last season, and this team is a serious threat to all defenses.
Despite their overwhelmingly stacked offense, it is on their own defensive side of the ball where these Gauchos are going to focus their energy. Coach Pasternack is making the shift to 100% man-to-man defense, an adjustment that will require players to be active on both sides of the ball and take pride in protecting their basket in order to succeed. "We've worked really hard to establish a culture on the court of defense and rebounding," noted Pasternack on what the main focal points have been since his installment. The emphasis is not only defending the ball well, but securing possession and limiting second-chance opportunities. Freshman Brandon Davis is ready to accept the challenge to be a defensive juggernaut, saying, "We are going to have no problem scoring the ball...but we want to be known for being a defensive team and for being the hardest playing team on the court." Many players have voiced similar feelings, saying that at the end of the day it will come down how many points they can limit the opposition to.
But ability on the court means nothing if you do not have the opportunity to showcase it, and that means taking care of business in the classroom. The student side of the student-athlete is one that often gets overlooked by college sports program, but not this one. Coach Pasternack has made it clear that being a part of this team means taking care of their academic responsibilities on a day to day basis. He does not just want a roster full of great basketball players, he wants great men who are well-rounded. Part of this entails competing in the classroom and receiving an education from our highly accredited university that all of these players are lucky to call home. "The new coaching staff really jumped on academics from day one. Coach Pasternack wants to make sure that everyone is succeeding in the classroom and that we are all eligible to play each time we step on the court," said Alex Hart in regards to the new academic standards. He hints at an unfortunate scenario that unfolded last season in which three of the teams rotational big men were sidelined during league play due to academic suspension. That will not be an issue this season, however, as these players understand that when they do not take school seriously, they are letting themselves as well as their teammates down. Each player also has set study hours, regardless of their GPA, to ensure that they are staying ahead of their school work.
With their new leadership and dedication to being an all encompassing program, this Gauchos basketball team is a sight to behold -- so watch out. Watch out for them acing their midterms. Watch out for them at your local fundraiser or philanthropy. Most importantly, watch out for them on the court. This high-powered offense is hungry to avenge what was a down season last year, and with a conference that currently lacks a powerhouse team to sit atop the Big West throne, anything is possible for this team in Coach Pasternack's first season.