Track & Field Alumni Spotlight
Hello Track and Field Alumni and Friends,
This month I had the pleasure of interviewing former UCSB Head T&F Coach and alumni Kathy Kinane. Kinane recently gave a gift of $10,000 to our program. She is an Olympic trials qualifier and the President of Kinane Events, an event management group that has served over 1 million runners and walkers in iconic road races located in Southern California.
We wanted to hear about how leading Gauchos to success on and off the track has impacted her life.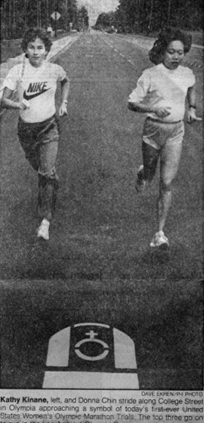 When did you start coaching for UCSB Track & Field?
I was hired by Alice Henry as the Women's Cross Country and Track and Field coach in the August of 1981 and coached until the Spring of 1983. My salary was $12,000/yr. and the entire budget for Cross Country and Track was $20,000/yr. (including my salary).
---
What was your Track and Field background as an athlete?
In high school, I had the good fortune of attending a school where the Athletic Director was very supportive of girl's sports.
In 1974, I ran my first cross country race on the West High boys frosh/soph team and only competed in girls-only races at invitationals. I was fortunate to compete in the very first girl's high school cross-country championships hosted by Nordhoff High School. I placed in the top 20.
I enjoyed running and it kept me in shape for my other sports, which were volleyball, soccer and tennis.
---
What attracted you to the coaching career?
As an athlete, I felt like women athletes were constantly treated as second-class citizens. In 1977, during my freshman year at UCSB, our 4 x 800 relay set a school record at a meet but missed qualifying for nationals by 2 seconds because one of our athletes had a bad day. Alice Henry wouldn't allow us to run in a qualifying meet because she didn't want to pay for our trip to nationals.
We had a different coach every year from 1978 to 1980. In 1980, the Athletic Director told Tom Lionvale (the men's coach) that he had to coach the women as part of his head coaching job. He wasn't very excited about it. We had an excellent women's cross-country team in 1980. We had trained together and with many of the men's team over the summer.
We won AIAW Division II Cross Country regionals on the Long Beach Course with a 2nd, 3rd and 4th finish. When we went to AIAW Nationals, Lionvale (who was named "Coach of the Year" because of the teams victory) sent us with an assistant coach and little preparation for what we were about to experience.
Despite these obstacles, our team garnered 10th place at the Division II National Meet at the TYEE Golf Course. Unfortunately, I placed 16th and All Americans were the top 15. It was a bittersweet memory because of this and the fact that I had missed qualifying for Women's Cross Country nationals by 6 seconds the year prior. I felt very strongly that the team would have done much better with some coaching and proper preparation.
As it stands now, UCSB has provided no recognition of our women's cross country team's regional victory or 10th place team finish at AIAW Division II Nationals which is very disheartening.
---
What motivated you to continue investing in this program?
I made the donation because of Sam Adams and the UCSB athletes with whom I shared so many great memories with from 1977 – 1983. They were my family during those years and I learned so much from everyone. I was in awe of world class athletes and coaches that came to learn from Sam. Our team had a unique experience of training alongside the best athletes in the world. It was an honor.
---
What were a few of your favorite moments in your tenure with the Gauchos?
Watching the legendary Sam Adams relax one day by smiling and jumping on to the high jump pit while about six members of the women's team were laying on the pit. We watched his world class athletes run sprints around the track. I felt like we were all part of an amazing family.
Sam was an incredible mentor. He would carefully tell me. "Never tell them what they are doing wrong. Only tell them how to do it correctly." And of course, I would just look around to one of his world class athletes on the track, point my athlete in their direction, and say "do it like them!"
The Santa Barbara Chevrolet Dealership called and asked if I could put together a team for the highly competitive Jimmy Steward Marathon Relay- held in Los Angeles. We had mostly unknown runners on the team and we won the relay.
Another was assisting Sam with the USA vs USSR Decathlon & Heptathlon, and with the Regional Special Olympics.
As a coach, it was watching so many of the athlete improve significantly and break school records. From 1980 – 1983, twelve school records were broken and two of these athletes ended up qualifying for the Olympic Trials: Joanne Davis and Melissa Martel.
Not to mention, these incredible memories with the UCSB women athletes:
Watching Melissa Martel set a personal best of 2:10.1 running against one of the Howard Sisters in a dual meet with UCLA. Melissa also set UCSB Course records in the 800, 1,500m and 3,000m her senior year.
Watching Mary Mason qualify for Division 1 Nationals with a 35:38 10k, running with only one other runner on our track. She then placed 14th in the 10,000m at NCAA Division 1 finals at BYU, during a downpour at altitude. She was seeded 35 out of 36. It was a very proud moment for everyone.
Mary Mason made history by being the first woman track athlete to place at a NCAA Division 1 Track and Field National meet.
---
What other organizations or causes do you support?
Our Move Your Feet Before You Eat!® Foundation which donates $29 - $35,000 annually to over 60 of our local non-profits.
---
Do you have a message to share to our Alumni who might be considering donating?
Hopefully, many of the Alumni had great experiences with their teammates and coaches. A donation could assure that future generations of Gauchos both men and women can have similar track and field and cross country experiences and friendships which will enrich their lives forever.
Click here if you are interested in making a donation toward the new Track and Field Project. Or connect with Head Coach Pete Dolan or Associate Athletics Director of Development Matt English directly.
The UCSB Track and Field teams will compete next at the big college rivalry meet, the Cal Poly vs UCSB Dual. This year's event will be hosted by Cal Poly on Saturday, April 29th. Check UCSBGauchos.com for meet preview.
---
Written by Peter Van Beurden
Men's Volleyball Hosted by Congressman Huffman Back East
Bella DiLisio
No. 15 Men's Volleyball took full advantage of their trip to the east coast last week by capitalizing on the opportunity to visit our nation's capital.
The team played a hard-fought match, ultimately falling to Penn State 3-1. But the trip was not for naught; Congressman Jared Huffman, a representative of California's 2nd district, served as the team's VIP tour guide through all the history and excitement of Washington, D.C.
An alumnus of the Men's Volleyball program himself, Jared Huffman was happy to host the Gauchos and help them make the most of what little time they had back east. He and fellow Congressman Salud Carbajal (a representative of California's 24th district, which includes Santa Barbara) hosted a breakfast for the Gauchos and fueled them up for a full day of touring and sightseeing. Senior setter and captain Grady Zant described how Congressman Huffman took them beyond the normal tour stops: "We got to see Congress in action, up from the gallery, which was a pretty crazy sight." He noted that this was the most memorable part of the trip, adding that it was a "surreal experience" to be able to watch Congress vote and see democracy unfold in a way that most only learn about in history classes but never get to see in person.
Beyond the excitement of having the privilege to be granted access to sights that the general public doesn't normally get to see, the team felt proud to be hosted by such a prestigious and accomplished alum. Commenting on Huffman's status as a role model for current and future players, Zant remarked, "[Senator Huffman] shows that the leadership qualities you have on the volleyball court can definitely be translated to different professions," indicating that having an alum who works tirelessly in Washington, D.C. for the benefit of the citizens he represents back in California is an incredible yet attainable goal that our Gaucho athletes can use as inspiration to take their talents beyond the court.
The Gregg and Carol Wilson Swimming Enhancement Fund
Legendary swimming coach Gregg Wilson (entering his 40th year at UC Santa Barbara) announced his retirement from head coaching in October 2015. Wilson embarked on his Gaucho journey in 1975-76 when he assumed the reins of the men's program. In 1985, after spending one year at his alma mater Cal, he took control of the women's program as well. What followed was a period of unprecedented success for both programs.
He coached his UCSB men's team to the Big West Conference title in 1979, beginning a run of 23 consecutive championships for the Gauchos, all but one coming with him at the helm of the program. In 1985, Wilson coached the women's team to the first of 13 championships over a 25-year stretch, giving him 36 total Big West titles. In his illustrious career, he was named Big West Coach of the Year 27 times and Mountain Pacific Sports Federation Coach of the Year twice. On the national level, Wilson guided 72 swimmers to All-American status, while on the international stage he coached three Olympians with Team USA, including gold medalists Richard Schroeder and Jason Lezak.
Much more difficult to measure than the All-Americans, conference titles and coach of the year honors are the scores of athletes that were influenced by Wilson during his four decades in coaching.
Established in 2015 by the UCSB Athletics Department, the Gregg and Carol Wilson Swimming Enhancement Fund affirms the strong tradition of excellence that the Wilson's have provided to the swim programs. This fund, used at the discretion of the Swimming Head Coach and the Athletic Director, supports the men's and women's teams in its primary mission of developing student athletes who are committed to academic excellence in the classroom, sportsmanship and success in the pool, and service to the community.
The fund assists the teams by helping to:
Provide supplimential support to the operational budgets.
Sustain the presence of an NCAA Division I Swimming Program at UCSB.
Recruit the most promising student-athletes through scholarships.
To contribute to this fund:
Pay online: visit gauchofund.com and select "Donate Now" at the top of the page and select The Gregg and Carol Wilson Swimming Enhancement Fund.
Respond by mail: make your check payable to the UC Regents, specifying the Gregg and Carol Wilson Swimming Enhancement Fund and return to:

The Gaucho Fund
ICA Building
Santa Barbara, CA 93106-5200

Pay by phone: call the Gaucho Fund Office at 805-893-5372.
For more information on this giving opportunity, contact:
Christina Baglas
Associate Director of Development
Intercollegiate Athletics
805-893-5372
christina.baglas@ucsb.edu
Gaucho Fund
A Fund for Opportunities