PAULEY TRACK & FIELD EQUIPMENT
The first phase of the Pauley Track renovation project is scheduled to break ground in Summer 2017 with anticipated completion in time for the outdoor season in 2018.
Funded exclusively by student fees, the first phase includes a brand new track surface, renovated competition areas for all field events and lights. We want to provide the 104 student-athletes on the team with new, high quality equipment to match the new facility. With your help we can raise the $210,000 necessary to cover the cost of new equipment for the team!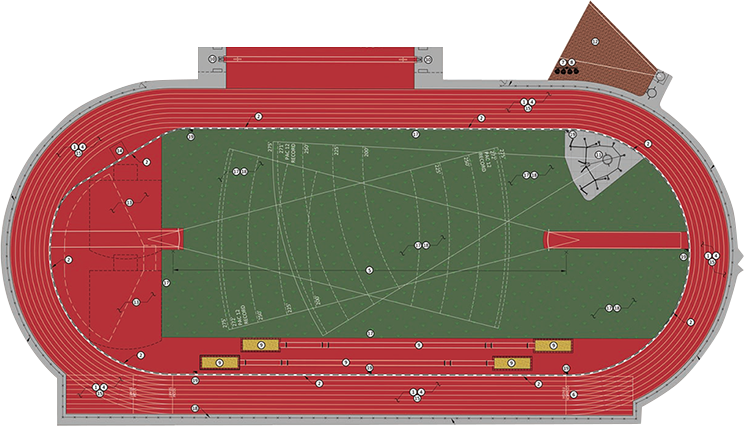 Thank you to the donors who have already given to this project:
(scrollable list)
Trent Bryson '98
John Edmonston
Kathleen Kinane '82
Dennis '61 & Irene Kavanaugh
Mikel & Bruce Ross
Anonymous '93
Eva & Phillip '61 Kirkpatrick
Melissa Martel '83
William '64 & Maria O'Neill
Robyn '89 & Doug '87 Dreibelbis
Sarah Sweeny '83
Priscilla Hargraves '10
Shirley Connors '63, '72
The Cheadle Family
In Memory of Vernon I. Cheadle
Gordon '57 & Merna '56 McClenathen
Robert Beeton '68
Richard & Bonnie Jensen
Mark Weinstein '80
Edwin W. Pauley Foundation
Melony '96 & Adam Lewis
The Bender Family
David '97 & Michelle '95 Blum
Jeremy Cowperthwaite '80
Barry Gellert '78
David Cullum '97
In Honor of Michael LaRocca '12
Jerrick Zhang '17
Tiffany '04 & Benjamin '05 Armel
John Wachholz '82
Ken Malcolm '87
Donald Patti '92
Scott Smith '10
Dr. Masaru J. Fisher '94
Gary Dilley '70
Christie Barr
Colette '88 & Chris '87 Felten
The Camarena Family
Renee McLean
Bill '58 & Rita '63 Collins
For more information about
Pauley Track Equipment

, contact: