SWIMMING GIVING CHALLENGE
The DeVito Family has generously offered a matching challenge to benefit UCSB Swimming.
Any new donation to the swimming program through December 31, 2017, will be matched dollar for dollar by the DeVito Family up to $10,000 each for Men's and Women's Swimming for a grand total of $20,000. Your donation will go directly to benefit the team. Included will be equipment to improvement meet management and items to improve the student-athlete experience such as an underwater speaker and a suit dryer. With your help, we can raise a total of $40,000 for UCSB Swimming!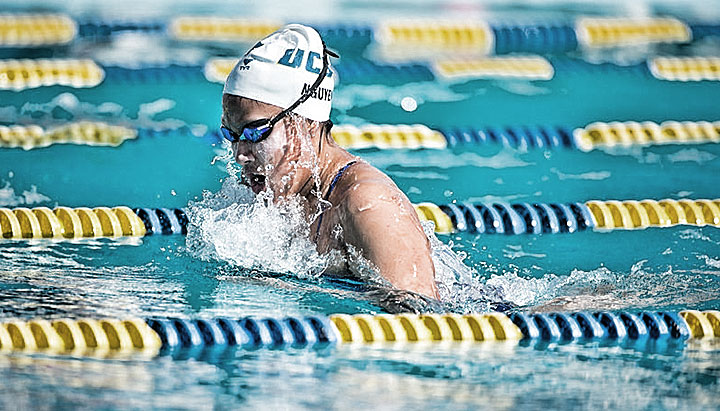 Happy Holidays Gauchos! Here is a quick message from UCSB's Head Swim Coach, Matt Macedo.
Thank you to the generous donors who have already given:
In Honor of Gregg & Carol Wilson
Anonymous
Dawn & Todd Levy
Karen '83 & Dan '81 Harvey
Michelle McGowan
Josie Hernandez '07
Meg & John Fellner
Jill Fusari
Jo Lamott '81
Bruce Patterson '61
Astrid '10 & Derek Shank
Bill Sweeney '94
Matt Wheeler '04
Garrett Porteous '06
John & Susi Rouse
Jen Schreiber & Kirk Everist
Jack & Sheri Neely
Iris England
David Wang
In Honor of Matt Macedo
Stephanie & John Griffin
The Brouwer Family
Jon Bishop
In Honor of Mark Stori
Scott Reed '96
In Honor of Gregg Wilson
Mike Shaffer '88
David Johannsen
Bo & Monica Mendoza
Rana Punja '89
In Honor of Gregg Wilson
Kenneth Radtkey '83
Lisa & David Johnson
Hope Curran '16
Lance & Pauline Depew
Elizabeth & Jim Middleton
Marcie '91 & Kevin Kjoller
Robbie Dame '06
The McGowan Family
David & Linda Lezak
Michelle Reid-Proctor
In Honor of Gregg Wilson
Steven & Vicki Boggess
Ann Ardell '86
In Memory of Anne Patterson
Mary Conner '88
In Memory of Anne Patterson
Ronald Helmuth & Kelly Malone
Lynette Rivers
In Memory of Paul Rivers
Neil '77 & Michele Kruezbeger
In Honor of Kimmie Kruezbeger
John & Susi Rouse
The Campbell Family
The Hotchkiss Family
In Honor of Gregg Wilson
Dawn & Rich Schroeder '85
Maureen Fischer '83
Matt Schubert '05
Mark Herzberg
In Memory of Harlan Herzberg
Sanford & Sandra Archer
Brooks Felton '08
Give now to participate in the giving challenge:
To make a gift via monthly payments please contact
christina.baglas@ucsb.edu
or call 805-893-5372.