2017-18 THE BARBER FUND
Over the past 6 years Gaucho alums, family and friends have been contributing to UCSB Athletics in Jim Barber's name and memory.
With the funds raised in Jim's honor UCSB Athletics has been able to enhance the athletic academic center, named the Jim and Cheryl Barber Academic Center. In recent years the academic center has been transformed into a location which allows student-athletes to study, receive tutoring and the center houses academic advisors who work solely with the athletes.
These funds have enhanced the athlete's experience off of the field and this year the Barber Fund will be focused on enhancing the student-athlete's experience on the field and in the weight room. The Intercollegiate Athletics weight room is in need of new equipment to service the 450 Gaucho athletes. $167,000 has already been raised to help purchase all new racks, bars and weights. This year, the goal for the Barber Fund is to raise $40,000 to help purchase more necessary equipment and continue to enhance the experience of our student-athletes.
We ask that you contribute to this fund and help keep Jim's memory and impact alive and support Gaucho Athletics.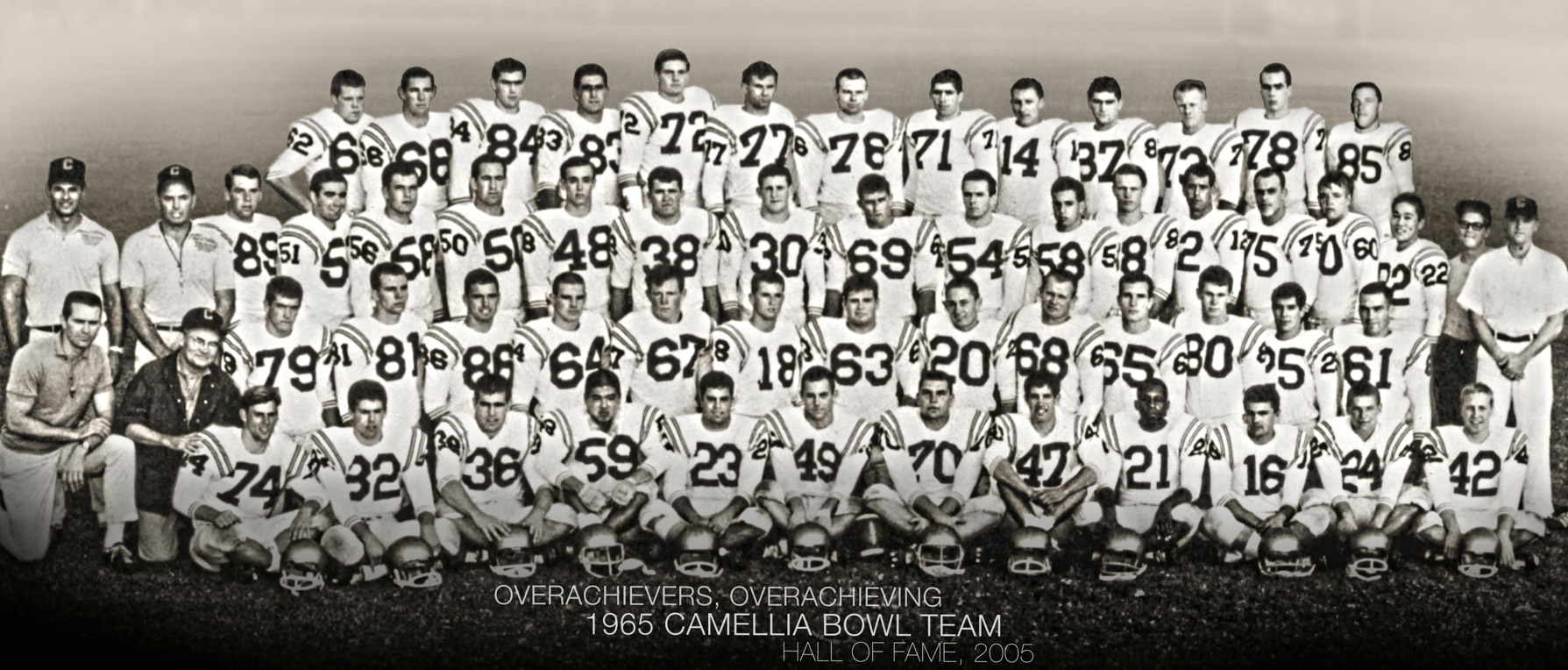 1965 Camellia Bowl Team - Hall of Fame, 2005
Thank you to our generous donors who have already contributed to this project:
Cheryl Barber '66
John '67 & Debbie '67 Keever
Dave Chapple '70
Richard '66 & Renee Kezirian
Donn Bernstein
Brock Arner '71
Robert '66 & Cindy Blindbury
William '68 & Lynn '68 Weitzenberg
Steve Ford
Doug Barker '69
James Curtice '70
Jeff Speed '84
George '67 & Sandy Jenkins
Patrick Farley '86
Ted Jr. '59 & Janis Harder
John '79 & Heidi Dobrott
Jack Buttery '67, '69
Rich Becker '69
Thomas Dimmitt '70
Corky '67 & Virginia Barrett
David Barber '92 & Monica DeAngelis
Michael Horst '67 & Laurie Beckelman
Paul '68 & Lois Vallerga
Tim Walker
Ernest '66, '72 & Leslie '64 Zomalt
Preston Hensley '69
John Boyle '68
Richard Booth '66
Kenneth '66 & Meredith '66 Khachigian
Douglas Bowman '65
Mel Gregory '66 & Carmel Myers
Dennis Berg '66
Frank Michaelson '71
James Sweeney '69
Mike Cobb '70
Allen Martens '66
Ron Moser '67
Steve Arnhold '67